Well once again i suck. lol I havent updated since november and it is now almost the end of january.
My kids are doing wonderful. Meah is getting over a little sickness but other than that she is great. Aaden is getting so big it is ridiculous. I love them so much. Aaden is still going to therapy for his neck every other week but is doing really great with the whole thing. He is scooting all over the place and getting into everything so that is fun. He has decided that he no longer likes to take naps and keeps himself up any way he can until i put him in the faithful jumparoo and he bounces his sleepy self to night night land.
Today Aaden is 8 months old. Holy crap how did he get to be EIGHT months old. sniff sniff.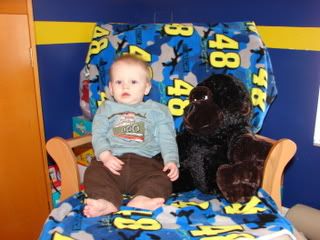 Meah is doing great too. She is talking so freaking much it is insane. On monday i took her to the dr and she was telling him all about target and that she didnt want to be at the dr anymore she wanted to be at target. lol Then she was scribbling on a piece of paper and said it was M-E-A-H. such a smart little stinker. The dr asked how old she was as he was looking at her chart and then was like "wow she isnt even three yet?" i said "no" he said "well she is a little ahead of the game isnt she!" Such a great thing for me to hear. I was so proud of her. Of coarse she acted like she was the healthiest kid ever at the dr running and jumping and talking his ear off then as soon as we get back in the car she throws up again and then sleeps the whole rest of the day. But oh well i would rather take her in and there be nothing wrong with her then sit at home and there be something really wrong ya know.
Oh big news to report we got a MINIVAN!!! WOOT WOOT! I am so very excited. Aaron did not want a minivan AT ALL he was like "I AM NOT DRIVING A MINIVAN!" And wouldnt you know he has been driving it everyday since we got it. He loves loves loves it. It is a 2000 Chrysler town and country. Fully loaded! We have been down to only one vehicle for a while now and it was the truck so we could never go anywhere as a family unless one of our wonderful friends or family members drove us around, a huge PITA i tell you. Now we have enough room for our family plus a couple of tag alongs if need be. Meah loves it she wants me to move her car seat just about every time we get in the thing because she just cant decide if she likes sitting in the captians chairs in the middle or the way back.
Here is a picture of meah with her new guitar she got for christmas and another of the kids on christmas morning this is how meah woke aaden up. Every day since then she says "mommy i need to go get aaden up and tell him merry Christmas!"